Moving from Denver to Colorado Springs
Denver is getting a little crowded. Over the past two decades, Denver has seen its population swell, but the city hasn't quite been able to keep up with the boom. When cities can't keep up with their growth, it's time for a change for many locals.
One of the most popular moves for those fleeing the overcrowding of Denver is an hour and a half south down Interstate 25 to the lovely town of Colorado Springs. Let's learn more about moving from Denver to Colorado Springs and how to get matched with the right neighborhood.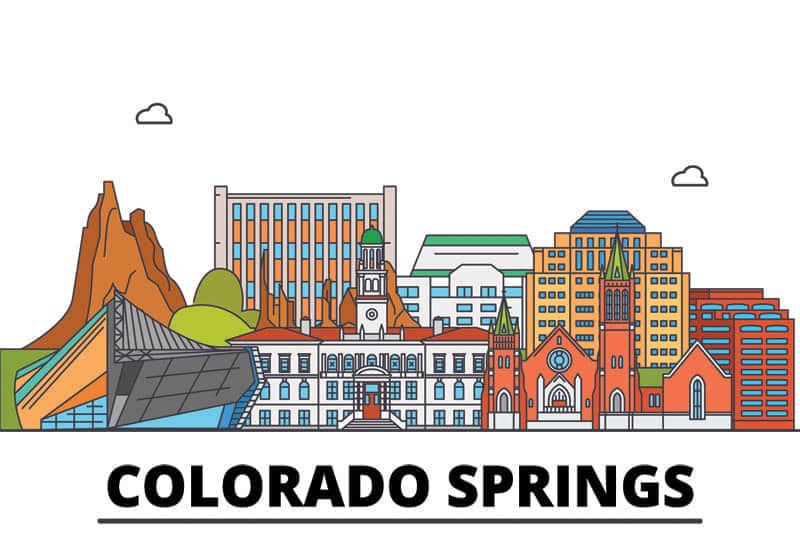 Similarities Between Denver and Colorado Springs
Military Towns – Colorado Springs is undoubtedly centered around the many nearby military installations. Within the Pike's Peak region, you have the Air Force Academy, NORAD, Fort Carson, and Peterson Air Force Base. While not as directly military-centered, Denver also has many service members present thanks to Buckley Air Force Base and other nearby installations. Moving from Denver to the Springs won't be a huge culture shock if you're in the military.

Things to Do – Both Colorado Springs and Denver are big towns. Denver has a much larger population than Colorado Springs, so while there's technically more to do in Denver, there's no shortage of events and fun in Colorado Springs too. There are dozens of independently owned restaurants, shops, and services as well as live venues, bars, clubs, and much more. Like Denver, living in Colorado Springs puts you on the doorstep of tons of outdoor adventure.
Differences Between Denver and Colorado Springs
Home Prices – As of 2021, Denver is among the top 10 real estate markets in the country. Denver is slammed with high prices, low inventory, and cutthroat competition. Colorado Springs is growing along with Denver but not at the pace seen at the Mile High City. Because Colorado Springs is less competitive and there's more inventory, prices are much fairer down in the Springs.

According to Realtor.com, the median price of an average Denver home is currently at $485,000. The median price of an average Colorado Springs home is more than $100,000 less at $360,000.

Crowded vs. Open – The City of Denver boasts a population of 705,576 while Colorado Springs only clocks in at 464,871. A smaller population doesn't draw as much national interest as a 'big' city like Denver, but that's what most people like about Colorado Springs vs. Denver.

Conservative Mindset – Where Denver is progressive, Colorado Springs is much more conservative. Of course, you'll find liberal citizens in Colorado Springs and conservatives in Denver but overall Colorado Springs is more family-oriented and conservative than the Mile High City.
Best Neighborhoods for Moving to Colorado Springs from Denver
If Colorado Springs sounds like a great place for you, you still have to choose the right neighborhood. Colorado Springs is a big town, so expect every neighborhood to have its own personality, as well as its own pros and cons. Let's preview 5 great Colorado Springs neighborhoods and why you should (or shouldn't) explore them more.
Briargate Neighborhood, Colorado Springs
Briargate is one of Colorado Spring's largest neighborhoods and is very affordable for Denver residents fleeing the skyrocketing housing market. Briargate is filled with a variety of home styles from small one-story ranch to two-story craftsman style. Most home prices in Briargate average from the high $200s to the mid $400s.
There's also tons to do in and around Briargate. For outdoor fun you have the sprawling John Venezia Community Park and outdoor summer markets as well as dozens of shops, restaurants, and shopping centers. Briargate is also one of the closest neighborhoods to the Air Force Academy.
Downtown Colorado Springs
If you're leaving downtown Denver but still like the idea of city life then how about downtown Colorado Springs? Though admittedly not as 'urban,' as Denver, Colorado Springs hosts many downtown living options including studio apartments up to sprawling penthouse condos and several townhomes between.
Living in downtown Colorado Springs will put you closest to live entertainment, nightlife, restaurants, and other independent businesses, but further away from 'big box' stores. Most downtown condos are 2-4 bedrooms and range from the low $200s to the high $400s.
Broadmoor Neighborhood, Colorado Springs
The Broadmoor neighborhood centers around the Broadmoor Resort and Golf Course. If you like high-end and luxury then the Broadmoor is the place to call home. Known for large homes, a gorgeous clubhouse, and several in-neighborhood amenities, the Broadmoor is ideal for moving from high-end Denver neighborhoods like Cherry Creek or Country Club.
The Broadmoor neighborhood is among the most expensive of Colorado Springs communities with homes regularly pushing into seven figures but if you can afford it, you'll be living the good life in the Broadmoor.
Black Forest Neighborhood, Colorado Springs
Many are moving to Colorado Springs from Denver to take advantage of the extra elbow room. If you really want your personal space keep driving past the main Colorado Springs city center into the Black Forest neighborhood.
The Black Forest is known for big lots, big homes, and plenty of room to roam. Black Forest doesn't feature as many amenities and things to do like Broadmoor or Briargate, but that's what residents like. If you want to be connected to Colorado outdoors and prefer greenery over concrete, set your sights on Black Forest.
Old Colorado City Neighborhood, Colorado Springs
If you like charm and character then Old Colorado City in West Colorado Springs is an ideal neighborhood. Old Colorado City is known for its independent mindset and eclectic array of businesses including restaurants, tattoo parlors, and record stores. It's become a popular neighborhood for young families and singles thanks to its quirkiness and personality.
Old Colorado City homes average between Briargate prices and Broadmoor prices with most listings coming in from $500 to $700,00.
Colorado Springs Real Estate Agent
If you're ready to make the move, you'll need a trusted and local team to help you find and purchase your dream Colorado Springs home. Colorado's Storck Team are experts in Colorado Springs relocations. Our team can help you sell your home in Denver and make the move south. If you're ready to start exploring the Springs now give us a call to discuss needs and view listings today.