Local Moving Tips
Moving is a pain in the butt. It's hard to find anyone who enjoys cleaning out every single room in their house, packing it into boxes, deciding on what to keep and toss, hiring movers, then carefully unpacking all those belongings again.
If it's time for you to move, you need a plan and expert advice to make it through without pulling your hair out – and the Storck Team has your back. The realty experts at Storck have been helping homeowners get in and out of homes for years and know what makes for a successful move.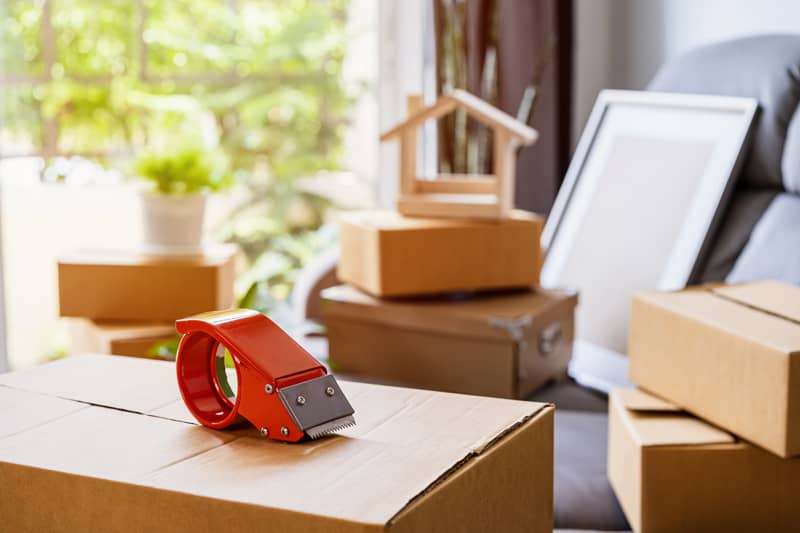 Let's learn tips and tricks for moving locally including advice on what you can take care of and how to hire and prepare for the moving team. It's never fun to uproot your life but let's make it as easy as possible with these 17 local moving tips and how to hire a great mover. Whether you're buying a condo or renting a home, these local moving tips and tricks will make your move a breeze.
Beginning the Move
The big declutter – Your first task is to declutter. Depending on the size of your home and the amount of stuff in it, the big declutter could take several hours or several days. Work one room at a time to avoid overwhelming yourself and use the 5-minutes / 5-year rule to help to declutter. If it will take you 5 minutes to get a new one or if you won't miss it in 5 years – toss it.
Use cost calculator – There are several online moving cost calculators to help you set your budget. Cost calculators can help you decide how much professional help you can pay for and what you need to do yourself.

Get high-quality boxes – Get high-quality boxes well in advance of your moving date. Stay away from old busted boxes that will spill your moving contents everywhere.

Donation pickup – After the big declutter, you probably have plenty of stuff that you don't want to move but you don't want to throw out. Set an appointment for a charitable organization to come to pick up what you don't want or need but that someone else could use. This includes kitchen items like canned goods.

Plan for moving day – If you have small children or pets they need to be out of the way during moving day. Plan for where they'll go well before the day arrives.

Start early – Start decluttering and packing the day you know you're moving, even if it's weeks out. Pack up stuff you won't need until after the move first and you'll thank yourself later.

Get quotes on trucks – If you're DIY moving, get several quotes on moving trucks and equipment from reputable rental companies. You stand to lose or gain hundreds of dollars when you choose your rental company.
Preparing for Movers
The below tips will both help prepare for professional movers or make for an easier DIY move.
Label Everything – Labels on top of labels make for an easier move. Use labels or color-coding to note where everything is going for the movers. Purple tape for kitchen, blue tape for bathroom. etc.

Make Way – Movers will not appreciate walking through a jungle gym to move your items. Make clear paths into all the rooms in your house.

Take Pictures – Pictures are the best way to both protect your belongings and make unpacking easier. Take pictures of all furniture, pictures of boxes, pictures of drawers before you empty them, and even how you arrange your living room. Pictures are one of the best tools for an easier unpacking process.
Unpacking
Break down boxes as you unpack – After you empty a box, pack it down right away. Seeing folded unpacked boxes will give you a mental boost and keep things tidy as you work.

Kitchen first – After the effort of moving you might want to unpack your bedroom and go to sleep right away but unpack the kitchen first. The kitchen is one of the most tedious but important rooms to unpack – get it done first.

Motivate yourself – Unpacking can bleed into weeks and months if you don't light a fire under your own butt. Schedule a housewarming party to incentivize unpacking and organizing.
Other Local Moving Tips and Tricks
Don't empty drawers – There's no reason to unpack and re-pack the dozens of drawers in your home. If it isn't too heavy leave drawers in their furniture and wrap everything up. If it's too heavy remove the drawers and wrap them individually for the move.

Leave clothes on hangers – Don't make yourself fold and re-hang everything you own. Leave the clothes on the hangers. You can wrap several clothes in one trash bag for easy transport.

Make Use of Portable Storage – Take advantage of all your luggage, backpacks, and any other portable storage you have.

Make a moving day bag – Fill a bag with standby essentials like snacks and water, real estate documents, phone chargers, and anything else you need quick access to.
Hiring a Mover
While some homeowners in smaller homes can take care of the move entirely by themselves, most need the help of professional moving services. Hiring a great mover is arguably the most critical step in the moving process so take your time, and check all the following boxes before inking your contract:
Local – Local companies tend to offer the best overall customer service and are easier to deal with should something go wrong. Only hire local movers.

Great Reviews – Use online resources like Google reviews, BBB reviews, and more for an overview of how the company performs.

Contractor Resources – Use contractor resources like the BBB and Angie's List for a shortlist of great local movers.

Referral – Do you like your real estate agent? Ask them for a suggestion. Real estate agencies work closely with several types of companies including movers and likely have some personal referrals in their back pocket.

Several Years' Experience – The more years of experience local movers have, the better. There is a reason companies stay in business.

Insured – The movers are going to be handling your most valuable possessions, so you better be certain they're insured. Always verify the insurance by calling the number listed on the insurance certs provided.
Get Packing and Get Moving
Sorting through and packing up all your belongings is a tall task, even for small moves, but proper planning and execution make for a much smoother transition. Work your way around your home and throw out as much as you can, label everything, hire a great mover, and follow as many of the tasks listed above as you can. With an easy move, you'll be able to start your life in your brand-new home sooner.