How to Rehab a Home
While most want to purchase a modern home that doesn't need any work, others like a project. Thanks to HGTV and YouTube, rehabilitating or 'rehabbing' old and disheveled homes have become more popular – but a home rehab takes a lot of time and resources. As short sales and foreclosures start to hit the market due to COVID fallouts, rehab homes are going to be more common.
You might have the time and even the expertise to rehab a home, but what about the money? You're already spending a lot on your down payment; do you need to get another contractor loan? Can you bundle your loans into one?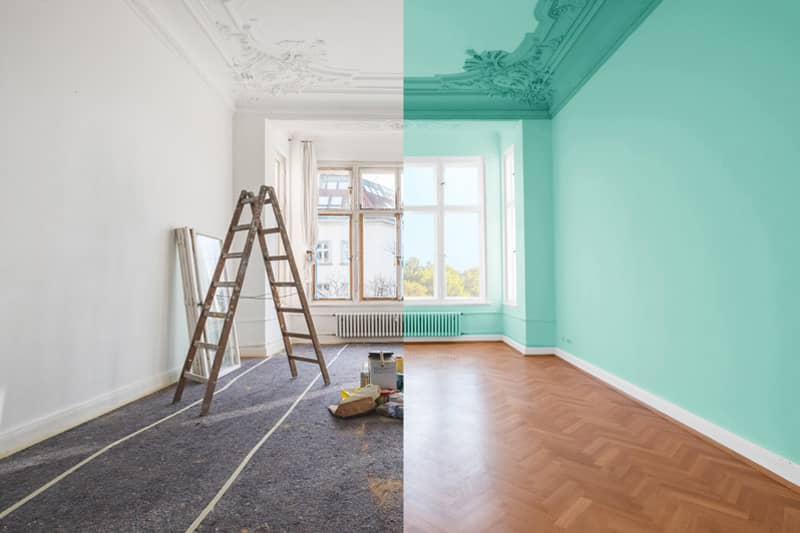 How to rehab a home can be complicated if you don't know what you're doing but much easier with the right knowledge and the right real estate team on your side. Let's learn how to rehab a home including information on the helpful FHA 203K Loan and how you can get started on the home rehab process today.
What is a Rehab Loan?
Financing a home requires plenty of paperwork as does taking out a contractor loan. If you plan to buy a fixer-upper that needs some serious care, you need the convenience of an FHA-backed rehab loan.
A rehab loan bundles the home's mortgage and renovation into one payment which means less paperwork and headaches on your end. One of the most popular rehab loans for homebuyers who need a little financial assistance is the FHA 203K rehab loan.
What is the FHA 203K Loan?
The Federal Housing Authority (FHA) wants to make rehabs and renovations easier on potential buyers that might not have the upfront resources of others with the FHA 203K Loan. The FHA 203K Loan allows homeowners to combine their mortgage and loans for renovation into a single mortgage payment with fewer overall costs. There are two main types of FHA 203K loans.
Limited 203K Loan – The money allowed for limited 203K loans is well, limited. Limited 203K loans are normally used for a home requiring home renovation expenses between $5000 and $35,000. Typical Limited projects include exterior paint, window replacement, basement finishing, and more. Think lower ticker items with a limited loan.

Consultant 203K Loan – Used when the cost of renovation is expected to exceed $35,000. Consultant loans are used for major repairs and remodeling like building an addition. Think big-ticket items with a consultant loan.
Purpose of an FHA 203K Loan
Not everyone has the resources to pay a contractor thousands of dollars upfront or can afford a steep repayment window, but homeownership is one of the biggest economic drivers in the country. The more people who own homes, the more prosperous the country is.
The
Department of Housing and Urban Development
(HUD) knows this and wants to get more people into homes but doesn't want to overburden less fortunate homeowners with crazy renovation rates. The FHA 203K loan is an incentive for homes to be bought, fixed up, and lived in without financially wrecking potential homeowners.
Benefits of an FHA 203K Rehab Loan
Convenience – With an FHA 203K loan you won't have to keep two accounts open or pay two different parties. Like it's convenient to bundle your home and auto insurance together to make one payment, the convenience of a rehab loan is one of its largest selling points.

Fewer Financial Requirements – Your lender will have their own requirements for loan qualification, but requirements are normally softer for a 203K renovation loan compared to traditional loans. You don't need perfect credit or a large down payment to qualify for an FHA renovation loan.

Better Overall Deal – A FHA rehab loan is normally less complicated and a better overall deal than a traditional contractors' loan. FHA loans feature lower interest rates, larger repayment windows, and other features that save the borrower's resources and energy.

Automatic Insurance – The FHA insures all 203K rehab loans which makes you more likely to qualify for different mortgage loans.
What to Use an FHA Loan For?
FHA loans vary for a variety of projects from simple fixes to leveling the home down to its foundation for a total rebuild. According to HUD.gov borrowers use an FHA loan for many qualified renovations including:
Retrofitting for greater ADA accessibly

Replacing exterior components like roofing and gutters

Structural alterations or repairs

Replacement of interior components like air conditioning and plumbing

Upgrading home components like insulation to energy-friendly options
FHA 203K Loan Requirements 2019
Not everyone can qualify for an FHA renovation loan. Though requirements are updated regularly and can vary, all 203K loans require:
Finding a Property – HUD requires that you find a property that needs fixing before applying for an FHA loan.

Finding a Lender – All homeowners applying for an FHA renovation loan must find their own qualified lender.

Qualifying with the Lender – All homeowners must meet the qualifications for their individual lender. Your lender could require minimum credit scores, proof of income, proof of employment, and other financial footwork.
Using a Real Estate Agent to Rehab a Home
A normal real estate transaction is filled with professional terminology and plenty of jargon, but a rehab loan can make startup paperwork more complicated. If you plan to apply for an FHA 203K Loan you need the help of a reputable real estate agent that has worked with rehab loans before. Denver's The Storck Team is a fully licensed real estate agency with decades of experience including helping on FHA loans. Call a Storck Team agent today for the full scope of FHA loans.
Renovate, Rehab, Relax
Not everyone has deep pockets to secure a mortgage on top of a high-interest contractors' loan, but the FHA 203K loan can help many achieve their homeownership and renovation needs. If you think an FHA 203K is right for you, head to HUD.gov for more information or call an experienced member of The Storck Team. Before you know it, you'll be living in a beautiful home that you've made your own.