Moving to Colorado from Florida
Everyone is looking for the perfect place to call home and for thousands of Americans the coronavirus pandemic has hurried up that goal. Thanks to quarantine and social distancing requirements hundreds of offices across the country are still closed, which means thousands of workers don't need to be close to the office or commute anymore.
With no daily commute people, more people than in recent memory are free to live wherever they want. Some have taken advantage by moving from congested cities to open suburbs while others have chosen to make a much bigger move across state lines.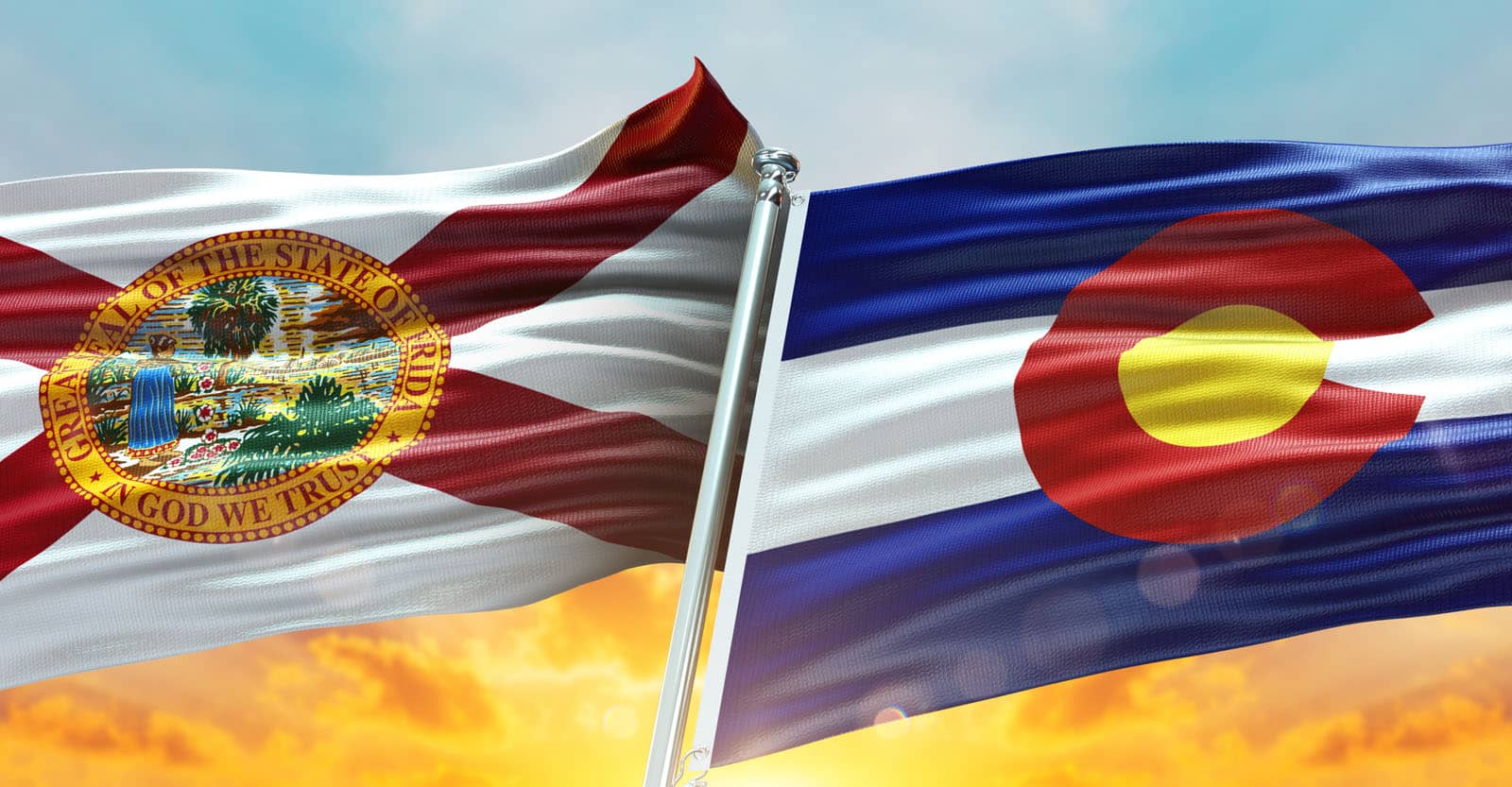 One of the more popular moves has been from the south to the west, with many Florida residents pulling up stakes in the Sunshine State for the Centennial State of Colorado. Let's figure out why Colorado has become such a popular destination for former Florida residents and what the state offers.
Why People are Moving to Colorado from Florida?
Beat the heat (and more) – Even the northernmost sections of Florida are hot hot hot with triple digits and high humidity most of the year. Factor in hurricanes, heat waves, and you have some fairly uncomfortable weather. Colorado has much more even temperatures, much less precipitation, and arguably as much sunshine as Florida. Colorado's weather is by no means perfect, but you don't need to worry about evacuating Colorado anytime soon.

Outdoor Adventure – Florida is filled with tons of great outdoor adventures from snorkeling to hiking so if you don't want to leave outdoor adventure behind Colorado is an excellent destination. Colorado has fishing, climbing, mountain biking, hiking, skiing, and snowboarding just to name some outdoor activities. Unlike Florida, the weather won't make spending time outside unbearable for most of the year.

The Right Match – Like Florida, Colorado has both conservative and progressive pockets. Both Florida and Colorado are considered purple states so you can avoid a huge culture shock by finding a town that matches your mindset if that's important. Even within the Denver area, you can find several types of neighborhoods to match your family's needs.
Great Neighborhoods in Colorado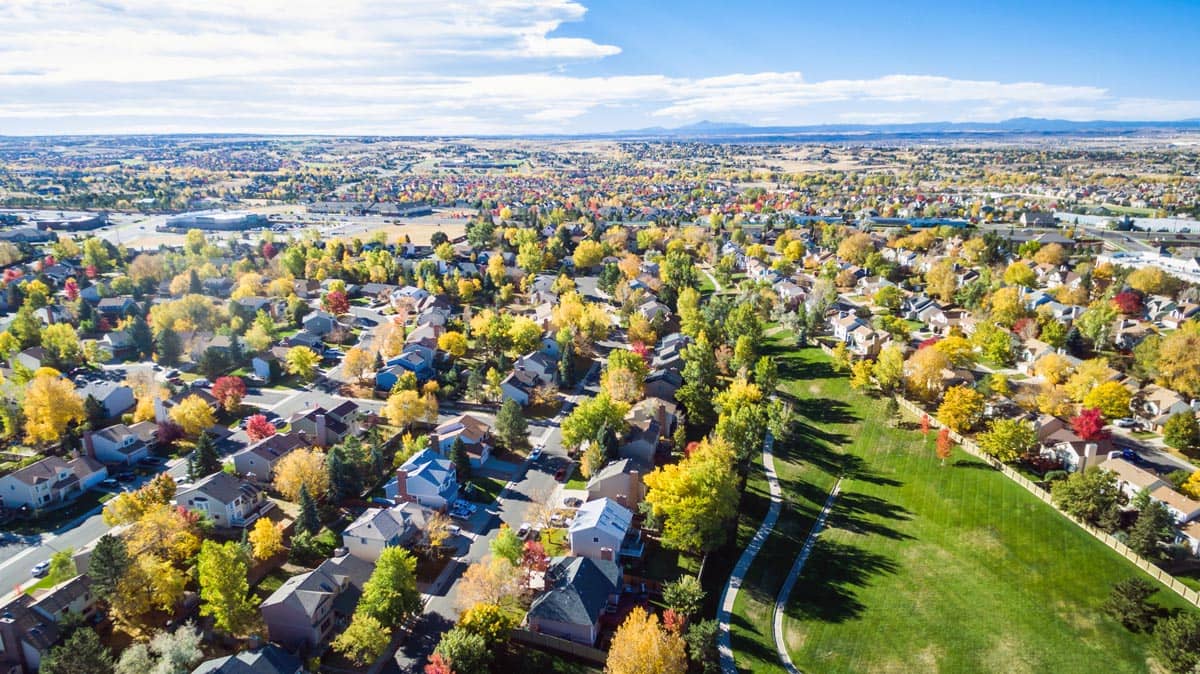 Aurora, CO
Similar Florida Cities: Kissimmee, Nocatee
Once a humble Denver suburb, Aurora has grown into a sprawling city with plenty to explore. With countless neighborhoods, shopping centers, and entertainment, Aurora provides plenty of opportunities for exploration. Best of all, with new construction and developments, Real Estate in Aurora is one of Denver's most affordable suburbs. So, if you're looking for a new place to call home, Aurora is an ideal choice! From its exciting attractions to its affordable housing, Aurora is sure to have something for everyone.
Types of Homes in Aurora
Aurora is a great mix of older neighborhoods, new construction, and multi-unit living. Whether you want a brand-new home on the east side of town or a forty-year-old ranch on the west side, Aurora has plenty of inventory and home styles. Again, Aurora is one of the more affordable neighborhoods with an average current list price of $390,000.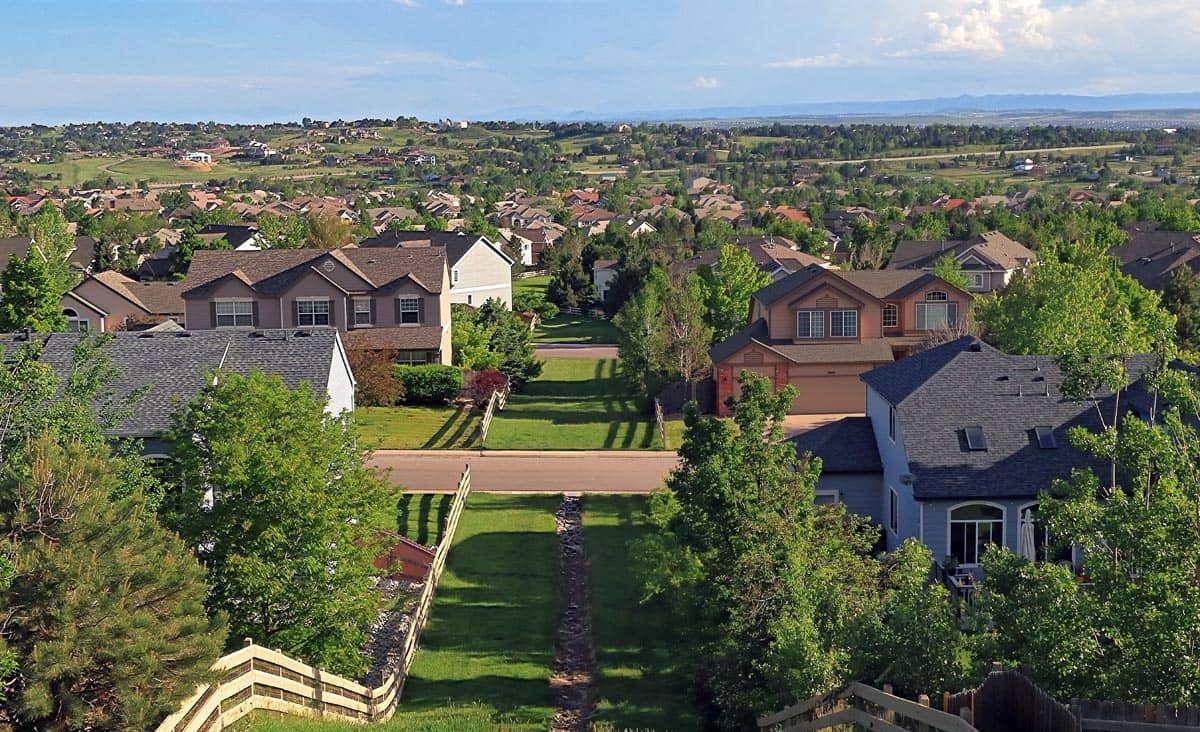 Centennial, CO
Similar Florida Cities: Kissimmee
Just a few years ago, Centennial was nothing more than a few residential streets, but due to the Denver Tech Center in its vicinity, it has since experienced tremendous growth. Its prime location allows for quick access to various highways and streets, making it easy for its residents to get around the Denver metropolitan area. Home to many neighborhoods built within the last thirty years, Centennial is also a hub of new and exciting activities.
Types of Homes in Centennial
Centennial is dominated by one and a half to two-story single-family homes featuring four to six bedrooms. Centennial boasts decent lot sizes, newer homes, and enough exterior options to find the home that matches your style and needs. A Centennial single-family home averages a current list price of $500,000.

Denver, CO
Similar Florida Cities: Jacksonville, Orlando, Miami
Denver, the Mile-High City, is Colorado's most bustling. Packed to the brim with amazing features, Denver is the ultimate spot for those who are looking for plenty of entertainment and activities. Within the city limits, you'll find parks, museums, bars, restaurants, live venues, professional sports, and breweries. It's the perfect place to explore and experience all that life has to offer. Whether you're looking for a night out or to get up close and personal with nature, Denver has something for everyone. And with its many offerings, it's easy to see why it's one of the most populous cities in Colorado.
Types of Homes in Denver
Denver is a large eclectic city when it comes to home types featuring everything from 1-story southwestern-style adobe homes to stately Victorian mansions with slate roofs. Thanks to a sizzling real estate market current Denver inventory is on the low end but with patience and the help of a realtor you'll be able to find something that suits you. A Denver single-family home averages a current list price of $512,200.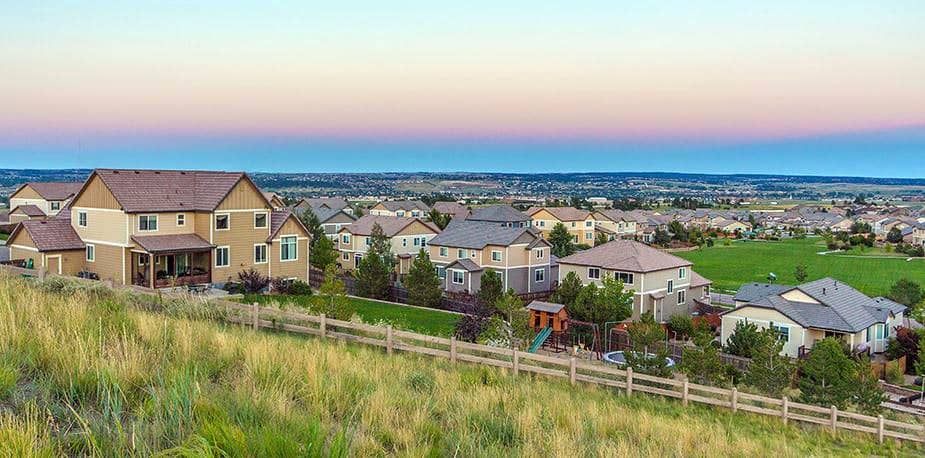 Parker, CO
Similar Florida Cities: Jupiter, Winter Park
Parker is a burgeoning suburb of Denver, offering plenty of amenities and plenty of options when it comes to shopping. With a combination of older dwellings and new construction, it's possible to find a home that's less than 40 years old. There's plenty of fun to be had at the Parker Days Festival, and the schools are top-notch. Plus, Main Street is a charming place to explore. All these factors make Parker an ideal spot for raising a family.
Types of Homes in Parker
Again, most homes in Parker were built in the last few decades, so most feature newer appliances, styles, and features. There are plenty of great single-family homes ranging from three to six bedrooms with larger lots compared to other area neighborhoods. It's an idyllic place to live and sometimes prices reflect that with the average single-family Parker listing at $559,900.

Steamboat Springs, CO
Similar Florida Cities: Coral Gables, The Keys
Are you a Floridian looking to escape to the outdoors? Then Steamboat Springs is the place to be! Colorado is full of bustling cities, but Steamboat Springs allows you to get away from it all. Here, you'll find world-renowned ski slopes and snowboarding parks, as well as endless trails for mountain biking and hiking. And don't forget about the famous hot springs – perfect for relaxing after a long day of outdoor activities. In Steamboat Springs, Colorado, you'll find the perfect balance of city and country life. So if you're looking for a fresh start in the high country, Steamboat Springs is the place to be!
Types of Homes in Steamboat Springs
Though it's becoming more established every year Steamboat Springs is still primarily a seasonal tourist destination for skiing and snowboarding. Most available homes are multi-unit condos or town-homes but there are single-family homes available if you have the resources. There are several styles of multi-unit housing from quaint cabin-style to modern amenities and features depending on your budget but the average Steamboat Springs listing currently comes in at $779,500.
Getting the Most from moving to Colorado from Florida
Colorado's real estate market is red hot so finding the right home can be tough without the right help. Colorado's The Storck Team specializes in getting new residents acquainted with the area, can discuss your wants, needs, and budget, and match you to the right home in the right neighborhood when moving from Florida to Colorado. The longer you wait, the more new residents drive up Colorado home prices. So, give the Storck team a call to talk about Colorado real estate today.