Landscaping Tips to Sell Your Home
Nothing puts you ahead of the real estate game like strong curb appeal. Curb appeal, the first impressions, and sights someone sees when they arrive at your property is the easiest way to start a tour off right – and much of that curb appeal involves your home's landscaping.
You're not expected to renovate your home's entire landscaping before selling, but there are some landscaping tips you can use to greatly increase your property's appeal. Let's learn landscaping tips to sell your home and how to add curb appeal on a budget.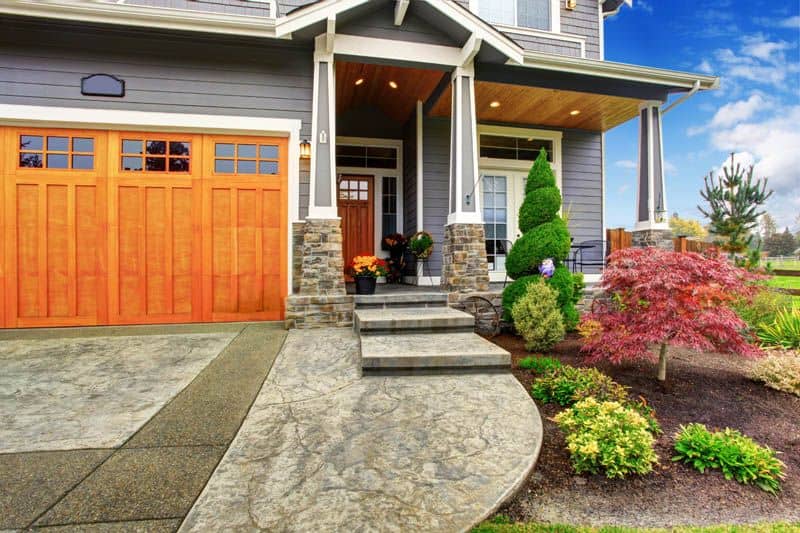 Why Curb Appeal is Important
First impressions are important to people, places, and homes. Let's imagine you walk into a potential new doctor's office but are immediately turned off by a dirty and dusty entrance. It doesn't matter if the best doctor in the world is behind that door – you don't like it. The same thing is true for your home.
When a potential buyer drives onto your property, the first thing they'll see is your curb appeal and landscaping. The stronger the first impression your home gives, the more likely you'll get your home off the market at or above asking price. When someone's onboard at the beginning, they're much more likely to stay on board for the whole property.
How to Add Curb Appeal
Color Near the Front – Nothing makes an entryway pop like natural colors. Use landscaping to bring color to your front entrance with new beds or containers. Before listing your home, fill the containers or beds with an array of colors and textures including flowers and grasses for an entryway that'll stick in a potential buyer's head. Adding a zing of bright seasonal colors is one of the fastest, easiest, and cheapest ways to increase your curb appeal.

Professional Maintenance – A quick run-through from a professional landscape company can transform any property with a half-day of work. Professional landscapers can cut in bed lines, mow the yard, define edges, prune overgrown plants, remove dead plants, mulch the property, and much more. Let the landscaping company know you're intending to sell the home and need a touch-up so they can make recommendations for your needs and budget including adding that touch of color.

Touch Up Mulch – A mulch touch-up is cheap, easy, and makes a surprisingly big difference to your home's curb appeal. Pick a natural-colored mulch and touch up all visible beds. If you have a big property and lots of mulched areas, you can use the help of a professional landscaper. Other than adding flowers near the front entrance, mulching is the fastest way to make a noticeable difference.

Irrigation Systems – Colorado is known for 300 days on sunshine, but it's also known for lack of moisture. Because most Colorado homeowners want a great irrigation system, it's best to check on yours before selling. Have a professional landscaper or irrigation tech evaluate your irrigation system, make any recommendations or complete repairs, and provide a clean bill of health for any future homeowners. This will save you time and money during the inspection process, as most home inspectors check the sprinkler system during home buyers inspection.
Should You Landscape Backyard Before Selling?
Most homeowners concentrate their efforts on the front yard since as we've learned, that's where the curb appeal is. You should always fix up your front yard for the curb appeal but what about the backyard? Like other aspects of selling your home, it depends on what you have to work with and what type of value you're trying to build before selling.
When considering whether to invest in backyard landscaping, it's also important to review the local comps and your neighbors. If most homes in your neighborhood have a beautiful outdoor living space and custom landscaping, it might be worthwhile to invest in the backyard as well. Coloradans love their outdoor spaces and there's more value in outdoor living space here than in most other states.
Getting Help from a Professional Realtor
A professional realtor probably won't mow the lawn or install new hedges, but they know what potential homebuyers want out of your home. On top of the tips above, a local realtor can walk your property and make recommendations on where help is needed and where the home's landscaping is already appealing. Like a realtor can help you stage the home's interior, they can help make the exterior look great too.
Get Selling with Landscape Tips
A small amount of work can make a large difference when selling your home, especially when it comes to landscaping. Adding color, giving the property a once-over, and evaluating your irrigation on top of other recommendations can make a huge difference for your home's curb appeal and how fast it goes off the market. For a thorough job, walk the property with a The Storck Team to determine exactly what you need to get your home sold quickly.