3 Best Neighborhoods in Centennial CO
The Denver metro area has become one of the hottest real estate markets in the country, but if you're looking at Denver area real estate it's best to narrow your options down to favorite neighborhoods. If you want a great location, highly rated schools, shopping, proximity to Denver and other benefits look no further than Centennial as your ideal suburb.
If you are looking for the best neighborhoods in Centennial CO, we have three options that are sure to match both your wants and needs. Let's preview three of the best neighborhoods in Centennial and what you need to know about their real estate markets.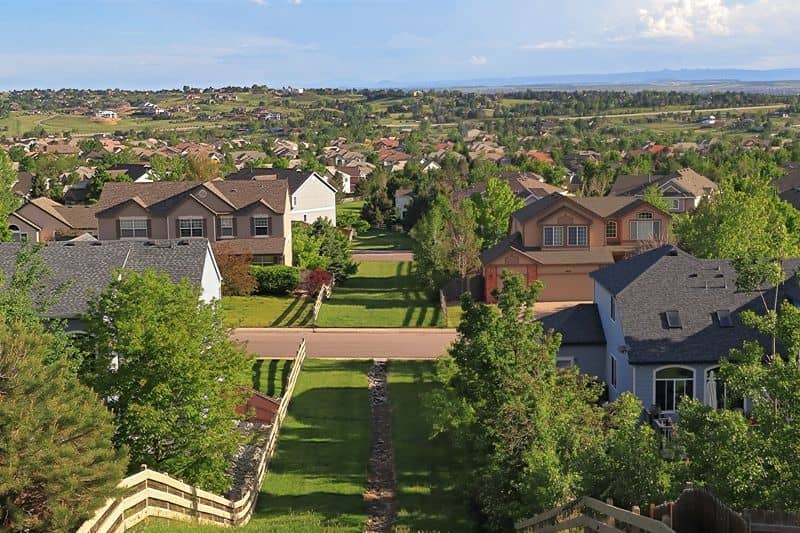 Castlewood Neighborhood, Centennial CO
Castlewood used to be its own town but was incorporated into Centennial in 2001 and has been a fixture of the community ever since. With a population of more than 30,000, Castlewood is one of the largest communities in Centennial and South Denver.
Where is Castlewood?
Castlewood is located on the northwest corner of Interstate 25 and E-470 sandwiched between the Willow Creek neighborhood and the Fiddler's Green area. Castlewood's location gives residents quick access to all the shopping of Park Meadows, the jobs of the Denver Tech Center, and is only around a half-hour drive or light-rail ride to downtown Denver.
Types of Homes in Castlewood
Castlewood is a large neighborhood with hundreds of single-family and multi-unit homes available. The neighborhood mostly features 3-4-bedroom ranch, colonial, craftsman style homes, with other styles available to suit your unique taste. Most 3-4-bedroom homes start in the mid $300s and go up to the low $700s. Castlewood is a great neighborhood if you like variety and options.
Foxfield Neighborhood, Centennial CO
Though technically its own jurisdiction, Foxfield is also a great neighborhood within Centennial's borders. You can consider Foxfield the end of the businesses and activity of Centennial and its Arapahoe Road businesses like Arapahoe Town Center and Cornerstar and the beginning of Centennial's more open and relaxed eastern portion.
Where is Foxfield?
Foxfield is located on the southeast corner of E Arapahoe Road and S Parker Road near the Cherry Creek Valley Ecological Park. Foxfield is bordered by S Parker Rd on the west, E Arapahoe Rd in the north, S Chapparal Cir on the east, and E Hinsdale Ave in the south.
Types of Homes in Foxfield
Foxfield is a small neighborhood and thanks to its great location, inventory is frequently low. Inventory in Foxfield mostly includes 3-4-bedroom single-family homes ranging from the mid $300s to high $600s. Foxfield features some of the largest lots in Centennial, but they come with a price.
Southglenn Neighborhood, Centennial CO
Southglenn is a master-planned community and was formerly its own jurisdiction before being incorporated into Centennial in 2001. At a population of over 50,000 and close to 20,000 households, it is one of the south Denver's largest neighborhoods. Southglenn features the shopping metropolis of the Streets at Southglenn.
Where is Southglenn?
The Southglenn neighborhood is found on Centennial's far western side. Southglenn is bordered by E Arapahoe Rd on the north, the Streets at Southglenn on the east, E Dry Creek Rd on the south, and S Penrose Ct on the west though nearby streets also consider themselves an "unincorporated" part of the Southglenn area.
Types of Homes in Southglenn
Southglenn features hundreds of single-family homes and multi-family units. Because the area has been developed over the years there are a variety of different home styles and sizes, though one to one and a half story ranch and hip and ridge homes are the most popular. 3-4-bedroom single-family homes can range anywhere from the low $400s to the low $600s.
Using a Centennial Real Estate Agent
Centennial has many choices – almost too many. To find the best home at the best price you need a local Centennial real estate expert. Before beginning your home search in earnest, look for a real estate professional that has been operating in the Centennial area for years, and knows the nuances and patterns of the neighborhood. Local is always best in real estate so contact The Storck Team today for all your Centennial Real Estate needs.
Finding the Best Neighborhood in Centennial
Centennial is a rapidly growing suburb and is quickly becoming one of South Denver's hottest real estate markets. For room to roam try Foxfield, for quick access around Denver go with Castlewood, and try Southglenn for access to tons of shopping. No matter which Centennial neighborhood you choose, use a local Centennial real estate expert for the perfect match. If you have your heart set on another Centennial neighborhood, give us a call and we'll tell you everything you want to know about that neighborhood, or check out our homes for sale in centennial page for more.